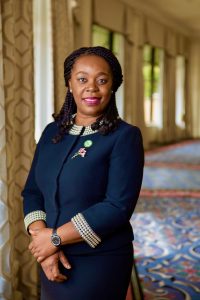 Dr Uduak Okomo
MBBCh, MSc, FWACP (Paediatrics), PhD
Vice President & The Gambia Chapter Chair West African College of Physicians
On behalf of The Gambia Chapter of West African College of Physicians and the Local Organizing Committee, I am thrilled to invite you to the 44th and 45th Annual General and Scientific Meeting (AGSM) of West African College of Physicians which will be held on 1st to 3rd November 2021 as a fully virtual meeting
The themes for the 44th and 45th AGSM, "Universal Health Coverage: A right for everyone, everywhere", "The role of vaccines in universal health coverage", and "Destigmatising mental health in the sub-region", are timely. Sustainable Development Goal 3 aspires to ensure healthy lives and promote well-being for all, at all ages. It also aims to achieve universal health coverage, provide access to safe and effective medicines and vaccines for all, while supporting research and development for vaccines as well as expanding access to affordable medicines. In recent years, mental health has stepped out of the shadows and is increasingly being part of the "conversation"; yet the stigma of mental health contributes to health disparities and discrimination and continues to permeate all of society, affecting people at all levels. The impact of the current coronavirus disease pandemic on health service provision and utilisation, the management of related co-morbidities and the major prevalent public health challenges, including mental health cannot be overemphasised. As an organising committee, we aim to bring together experts, researchers, and key stakeholders in various fields of Universal Health Coverage, Vaccinology and Mental Health for enhanced collaboration, to advance the thinking, and exchange ideas.